Dunstable High Street 'much-needed' revamp under way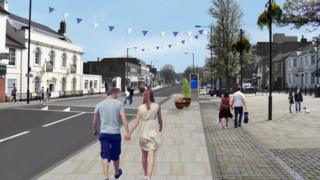 Work to make a town's High Street more "people-orientated" has begun and it should be ready by Christmas.
About £1.5m is being spent in Dunstable by Central Bedfordshire Council to widen the pavements and remove "street clutter" like railings.
Some people have called it "much-needed" while others have said the answer was "more good shops".
Councillor Nigel Young said the improvements will "help slow traffic and give the area back to shoppers".
Lee Roberts from Lisa Roberts Catering said: "Any regeneration you have to get on board and back it, whether you like it or not. The potential moving forward is greater than just leaving it."
Liz Jones, commenting on the Don't Let Dunstable Die Facebook page, said it was "an opportunity to refresh our town and bring the retailers together in a more cohesive way".
The improvements have not been welcomed by all - Rachael Wells, also commenting on the Facebook page, said: "A lot of it is unnecessary and impractical. No thought has been given to the potential for more anti-social behaviour and the increased emergency services response times."
Susan Byrne, who came to Dunstable in 1968, posted: "Spending so much money to rejuvenate the town isn't the answer.
"We don't need wider pavements and seats all over the place. We need more good shops."
However, Joanne Bowes, who runs The Workhouse in Ashton Square, supported the revamp and hoped the new-style paving would encourage more independent businesses into Dunstable.
Mr Young, the council's executive member for regeneration, said: "We want to make it people-orientated, with the feel of a market town that caters to the needs of both locals and visitors."
The funding for the work has come from Highways England and it is scheduled to be completed by 30 November.