Julian Cole: Student paralysed after police scuffle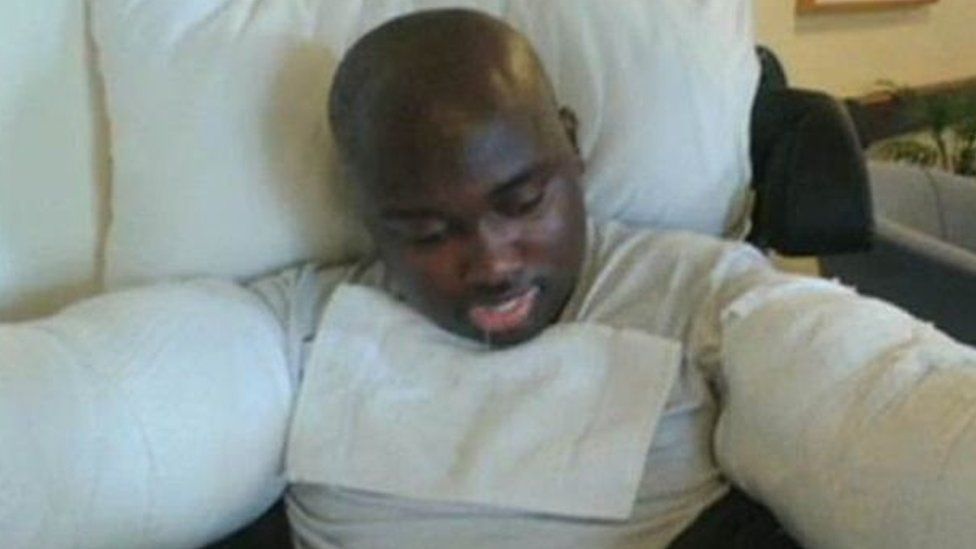 A student was "taken to the ground" by police officers and cuffed "face down" in an incident which left him brain damaged and paralysed, a misconduct panel heard.
Julian Cole was involved in a scuffle with bouncers and police officers outside the former Elements nightclub in Bedford in 2013.
The sports science student suffered a broken neck and a severe spinal injury.
Four police officers are facing misconduct charges over the incident.
Mr Cole had gone to the nightclub with a number of friends at about midnight, the misconduct hearing was told.
Counsel for Bedfordshire Police, Mark Ley-Morgan, said Mr Cole's blood alcohol concentration suggested "moderate intoxication" that would not be associated with drunkenness.
At about 01:26 GMT on 6 May Mr Cole was ejected from the club via a side door. He then went to the front entrance to ask for a refund.
After staff refused to refund him, Mr Cole attempted to go back inside the club a number of times.
Staff radioed for police support at 01:34 and officers including Sgt Andrew Withey, PC Nicholas Oates, PC Sanjeev Kalyan and PC Hannah Ross arrived.
At 01:41 Mr Cole approached staff again about a refund, at which point PC Ross "decided she was going to arrest him".
The student ran towards the nightclub but was intercepted by a member of door staff and both of them "went to the ground".
Mr Cole stood back up before he was "taken to the ground" by PC Ross, PC Oates and PC Kalyan at 01:48. He was then cuffed with "his face down on the ground".
Three officers lifted him from the ground and he was taken to the police van.
CCTV was shown to the hearing in which officers were seen to be dragging Mr Cole as his legs appeared to be trailing behind him.
Mr Cole was taken to a police station less than a mile away, but he was "unable to stand" on arrival.
At 02:02 PC Ross called an ambulance, paramedics arrived and commenced CPR on Mr Cole, who was not breathing. Thirty minutes later he was taken to hospital where a broken vertebrae was discovered.
All four officers face an allegation of gross misconduct which alleges they breached standards in relation to honesty integrity, duties and responsibilities.
PC Ross faces an elevation of misconduct concerning the force she allegedly used regarding the use of handcuffs. Mr Ley-Morgan told the hearing that the officers are not alleged to have "caused the injury to Mr Cole's vertebrae or the subsequent displacement that resulted in the damage to the spinal cord".
Related Internet Links
The BBC is not responsible for the content of external sites.