Luton Central Mosque: Ion Birliba ladder-fall death 'misadventure'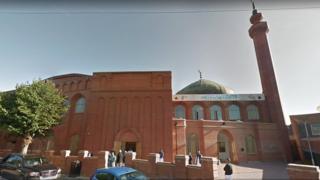 A verdict of misadventure has been returned by a jury at the inquest into the death of a Romanian building worker who fell from a ladder at a mosque.
Ion Birliba, 40, died in 2015, more than a year after breaking his back at Luton Central Mosque, the inquest at Bedfordshire Coroners' Court was told.
He received no safety instructions and spoke no English, the jury heard.
His wife Lenuta said in a statement he had been on the site less than a month and spent a year in intensive care.
A former mechanic, he was in his first building job.
Marius Gadea, who recruited Mr Birliba for Malik Contractors and Engineers, said in a statement to the coroners' court: "I did not speak English and Malik [the boss] did not speak Romanian.
"We communicated in gestures. There was no instruction on the safe use of a ladder or sledge hammer."
Malik Contractors and Engineers' director Sadaqat Bashir, 56, of Bathurst Walk, Iver, Buckinghamshire, was jailed for 12 months last October after admitting health and safety breaches relating to the death of Mr Birliba.
In February the company was fined £160,000 and ordered to pay £14,466 in costs for the same offences.