Cliveden: 'Profumo affair' hotel hosts literary festival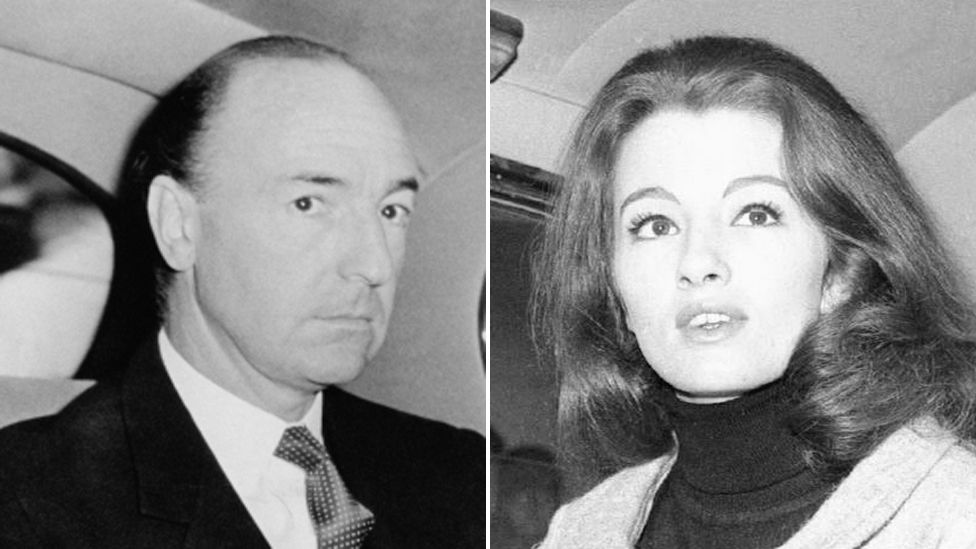 The country house where one of post-war Britain's biggest political scandals began is hosting a literary festival in keeping with its history as a centre of intrigue.
With talks entitled "Putin, Spooks and Honeytraps: The inside story of modern espionage" and "How to Stay Married", the programme for Cliveden Literary Festival could hardly be more apt.
Cliveden House, in Buckinghamshire, was where Conservative Secretary of State for War John Profumo met Christine Keeler in 1961.
His decision to lie about the affair destroyed his career, and nearly brought down the government.
It was not the first scandal centred on the house, built by a married duke to entertain his mistress.
Given to the National Trust in 1942, it is also now a hotel.
Profumo, 46, met model Keeler, 19, by the mansion's pool at a party in July 1961.
He was a guest of the Astor family, while Keeler was staying nearby with osteopath, Stephen Ward.
The pair had a three-month affair, but it would later emerge Keeler had also had a brief relationship with a Soviet naval attaché, Yevgeny Ivanov.
Cliveden's origins go back to 1666, when it was built on a ridge of the Chiltern Hills, overlooking the Thames, by George Villiers, Duke of Buckingham, to entertain his mistress, the Countess of Shrewsbury, and their friends.
The couple were married to other people, and two years later the countess' husband the Earl of Shrewsbury challenged the duke to a duel in which he was killed.
National Trust curator Oonagh Kennedy said the memory of this scandal lingered on, with a newspaper writing in 1786, "Cliveden Villa - the bower of wanton Shrewsbury and love".
She has researched the key women who have lived at Cliveden over the centuries and argues they have been "misrepresented in their time and since".
Cliveden House stayed in the political spotlight after it was bought by the enormously rich American Astor family in 1893.
In 1906, Waldorf and Nancy Astor moved in - and Nancy would make history in 1919 by becoming the first woman elected to Parliament to take up her seat.
Ms Kennedy said she "faced a frosty, hostile environment" from the 600-odd male MPs who did not want her there - but she was re-elected until 1945.
During this period, the Astors hosted glamorous guests, including David Lloyd George, Winston Churchill, George Bernard Shaw and Charlie Chaplin.
The house was in the headlines again this year, when the Duchess of Sussex stayed there with her mother the night before her wedding to Prince Harry.
Panellists and guests at the two-day literary festival include Armando Iannucci, creator of The Thick of It, Veep and The Death of Stalin; military historian Sir Antony Beevor; former Sunday Times editor Sir Harry Evans; and barrister Cherie Blair.
Related Internet Links
The BBC is not responsible for the content of external sites.