Ampthill estate agent removes banner after legal threat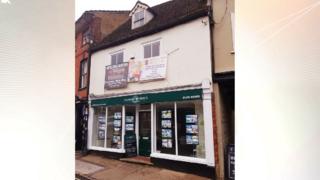 An estate agent in a Grade II-listed building has taken down a fundraising event banner after it was threatened with legal action by a council.
In May Country Properties in Ampthill expressed concern that Central Bedfordshire Council had told it to remove the temporary sign.
The estate agent had been using temporary signs to publicise charity events for 30 years.
The council said it had acted in response to a complaint.
Sasha Humphrey, senior sales negotiator with the firm, said: "It would be a shame not to have the banner.
"We've had them for the last 30 years. We took it down on Friday following the threat of legal action. We are talking with the council about this."
A council spokeswoman said: "We received a complaint from a member of the public, which we had to investigate.
"Whilst we appreciate that the advertising banners that Country Properties have displayed above their shop often do promote community and charity events, the building is Grade II-listed and is additionally in Ampthill's conservation area.
"We have also had conversations with the Town Council, and we would be happy to work with them to suggest alternative areas in Ampthill where they could place some other form of advertising for the local events."