Accountant Gerard Lawless 'carried out fraud on boss's behalf'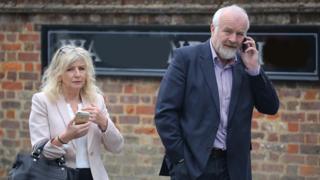 An accountant accused of stealing £1.7m to fund a luxury lifestyle was "carrying out his boss's orders", a court has heard.
Gerard Lawless, 59, of Taylor's Hill, Galway, denies theft and fraud by abuse of position.
He allegedly took the money over 11 years, mainly from two public relations companies in Harpenden, Hertfordshire.
His wife, Angela, 58, denies the acquisition, retention and use or control of criminal property.
St Albans Crown Court heard Mr Lawless, who previously lived in Harpenden, started working as an accountant for a small group of companies in Hertfordshire, predominantly owned by Vincent Tickel, in November 1997.
He is accused of taking money to fund expensive holidays, shopping trips to Selfridges and tickets for Ireland rugby internationals.
Defence barrister Adrian Waterman QC put it to Mr Tickel, 54, his client had been "carrying out fraud on your behalf".
The businessman denied this and when asked why he was privately prosecuting the couple said: "I wanted to get my money back."
Mr Waterman added that Mr Lawless's defence statement said he was "further remunerated by additional payments that were not declared to PAYE or National Insurance" to which Mr Tickel replied: "That was not known to me".
'Blatant fraud'
Earlier in the case, prosecutor Gideon Cammerman QC said Mr Lawless stole £1.7m between 2003 and 2014.
Mr Cammerman said that Mr Lawless and his wife spent £230,000 on holidays and "many thousands of pounds was spent on wine and champagne" over a 10-year period.
The court was told that champagne for his son's wedding was bought with a company credit card and Mr Lawless would pay for a big meal on a company credit card and give his own bank details for people to send him their share.
Mr Tickel said he would never have agreed to paying off Mr Lawless's credit card debts with company money or allow the transfer of funds to pay off personal debts and that the pair never discussed this.
The court was also told £348,000 unauthorised payments went to Mr Lawless's credit cards and the company credit card was used to pay for his personal orders from Amazon.
Mr Tickel said if he had been asked to allow that to happen, he would have refused.
The trial continues.