'Prison staff hurt' in HMP Bedford disturbance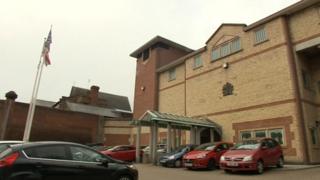 At least four prison staff were treated in hospital after a disturbance at HMP Bedford at the weekend, the Ministry of Justice (MoJ) has said.
The Prison Officers' Association (POA) said "riot squads, with the support of dog sections and local staff, regained control" after violence broke out.
The MoJ confirmed that "staff successfully resolved an incident" at the prison on Saturday and Sunday.
However, it rejected the claim that "riot squads" were deployed.
The department said there was no threat to the wider public.
It said four prisoners were involved in disorder on Saturday night and seven further took part on Sunday morning but at no point did prison staff lose control of a wing.
It confirmed that four officers were injured while a POA spokesman said the five suffered serious but not life-threatening injuries.
A spokesman for the MoJ said police were not deployed into the prison and "they didn't call in extra prison staff" at the weekend, those on duty were able to deal with the "bit of violence" that unfolded.
Prisons Minister Rory Stewart said: "We do not tolerate violence against our staff - that's why only this week we doubled sentences for those who assault them and why we will seek the prosecution of all those found to be involved in this incident."
Inmates 'taken control'
HMP Bedford is a Category B facility which holds more than 500 male prisoners.
Last week, the chief inspector of prisons triggered an "urgent notification" process at HMP Bedford after inspectors warned that inmates had effectively taken control of the facility.
In May, the publicly run prison was placed in special measures by the government because of safety concerns.
The POA said the weekend disturbance demonstrated that "local governance has failed to protect" its members.
In a joint statement the national chairman, Mark Fairhurst, and general secretary, Steve Gillan, said: "The POA are appalled that members' concerns and rights to work in a violence-free workplace have once again been ignored."
They said they "fully expected" Mr Stewart to insist that prison and probation directors listened to the POA and "immediately act to address our members' concerns".
The minister said nationally, 3,500 extra officers had been recruited and an extra £40m was being spent on safety, security and the fabric of the prison estate.
"We need to reduce violence in our prisons. I am confident we will achieve that aim through taking this decisive action and working constructively with all parties moving forward," he said.