Three teenagers jailed over Luton shopping centre knife fight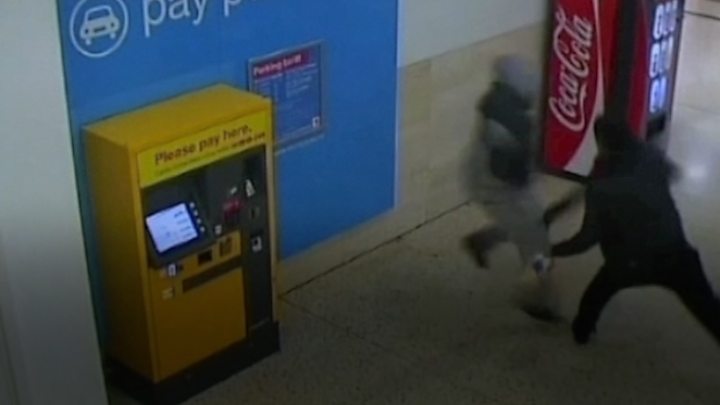 Three 18-year-olds have been jailed for their part in a knife fight which left a trail of blood in a shopping centre.
Che Stephens, described as the "instigator" of the fight at The Mall in Luton on 21 January, caused rival Luca Sanni a life-threatening injury.
Stephens was jailed for seven-and-a-half years at Luton Crown Court after admitting wounding with intent and possession of a blade.
Sanni was sentenced to five years and Imani Pobi Da Silva 12 months.
Judge Barbara Mensah said Sanni and Pobi Da Silva were "very lucky not to be fatality statistics" and described Stephens as having been "very obviously hyped up and dangerous".
Sanni was convicted after a trial of attempted grievous bodily harm and affray, and pleaded guilty to possessing a bladed article.
Pobi Da Silva was found guilty of possession of a bladed article, but not guilty of affray.
The court heard the trio were each "dangerously armed" in the shopping centre, which was busy with families and children at the time of the fight.
Prosecutor Martin Mulgrew said Stephens, from Bedford, was in one group while the other defendants, from Luton, were in another, and encountered each other outside Greggs bakery.
After "squaring up", they were separated and moved to a more "discreet" part of the shopping centre, the court was told.
Mr Mulgrew said: "The knife fight was instigated by Stephens. He bent his arm reached to his waistband and produced a large kitchen knife and stabbed Mr Pobi Da Silva in the left arm."
Sanni then produced a large machete and aimed at Stephens but missed, before Stephens returned a stab, connecting with Sanni's thigh and causing the life-threatening wound, the court heard.
Stephens attempted to deliver a second blow before fleeing through a passageway, taking with him Sanni's machete blade, which has never been recovered.
Mr Mulgrew said Sanni "left a long trail of blood" and collapsed on the floor of the shopping centre, and the court heard his life may have been saved by a tourniquet applied by a former army medic.