HMP Bedford inmates 'effectively control' jail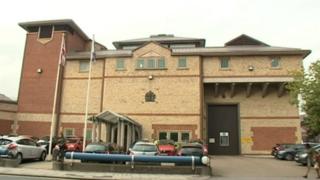 Inmates have effectively taken control at a violent and vermin-infested prison, a watchdog has warned.
Inspectors, who said HMP Bedford prisoners regularly ignored rules, found the smell of drugs "pervading" some wings and an infestation of rats.
The chief inspector of prisons has triggered an "urgent notification" process at the prison.
Prisons minister Rory Stewart said it was "abundantly clear that further action is needed".
Peter Clarke, the chief inspector of prisons, has sent a letter to Justice Secretary David Gauke, which means the government has to publish a response and plan of action for the jail within 28 days.
In May the publicly-run prison was placed in special measures by the government because of safety concerns.
It is the fourth jail to be subject to the "urgent notification" process after Nottingham, Exeter and Birmingham.
Mr Clarke said of HMP Bedford: "There was a dangerous lack of control in many parts of the prison, leading us to fear that there could all too easily be a complete breakdown in order and discipline.
"At times it felt as if prisoners were effectively in control, choosing when or if to comply with directions and consent to authority."
The inspection, which finished last week, found rates of assaults on staff to be higher than any at other prison in England and Wales, with 116 in the past six months.
It also found that one in five prisoners admitted to acquiring a drug habit since entering the jail.
Living conditions were found to be poor and overcrowded, while there was a lack of purposeful activity for inmates.
The Category B prison holds more than 500 male prisoners, although its intended capacity is thought to be about 320.
Mr Stewart said: "Bedford prison faces serious challenges. We placed it in special measures before the inspection was conducted and we are bringing in senior experienced managers.
"Our focus will be on reducing violence and drugs along with supporting our prison officers to turn Bedford around. It is abundantly clear that further action is needed."