HMP Woodhill: Violence and self-harm rise at 'boredom' prison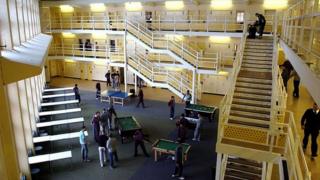 "High levels of boredom" have been blamed for a rise in violence and self-harm at a prison.
Inspectors at HMP Woodhill in Milton Keynes said its staff shortage problems had "chronic" consequences, including "severe regime restrictions".
But the prison had no suicides for 16 months, having previously had the highest level in England and Wales.
A Prison Service spokesman said "staff have worked tirelessly to improve support and care for prisoners".
HMP Woodhill holds just over 600 men, mainly remand prisoners and those serving short sentences, alongside a small number of category A high-security prisoners.
The previous Independent Monitoring Board (IMB) inspection had called the prison "barely fit for purpose" and HM Inspectorate of Prisons called its rate of self-inflicted deaths "staggering" in a report earlier this year.
In the five years to 2017, it was the prison with the highest suicide rate in England and Wales but the IMB said in its new report there had been no suicides between 12 December 2016 and 10 May 2018.
However, the report was concerned that 41% of prison staff had less than 12 months of service, which put a strain on experienced staff.
Inspectors, who also found vermin a problem, called the prison's lack of full regime for inmates an "unacceptable erosion of standards".
The report added: "The subsequent boredom and isolation increases the chances of disorder, reduces the opportunities for rehabilitation and can only increase the rate of reoffending."
The number of violent incidents more than doubled from 246 in 2016 to 540 in 2017, and in the first five months of 2018 there had already been 158.
The number of self-harm incidents rose from 430 in 2016 to 663 in 2017, while there were nearly 300 up until the end of May in 2018.
Frances Crook, chief executive of the Howard League for Penal Reform, said it should "surprise no-one" that violence and self-harm was so high "when prisoners are being kept in their cells for hours on end with nothing to do".
She added: "The loss of so many experienced prison officers has had a disastrous impact, and the government rightly embarked on a recruitment drive - but, while we welcome the arrival of enthusiastic new staff, it is disappointing that the opportunity was not taken to enhance their training."
A prison service spokesman said: "Woodhill manages a complex and vulnerable population and the governor and her staff have worked tirelessly to improve support and care for prisoners.
"Fifty-five more officers are now in post at Woodhill than in October 2016 and 46 officers are currently in training.
"This will improve the regime and mean more rehabilitative activity for prisoners."