Luton drug stash takeaway boss has jail term reduced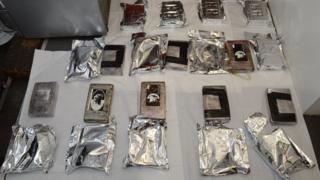 A takeaway owner who stored £1.5m worth of cocaine in his shop has had his prison sentence reduced by judges.
Shahraz Khan, 37, was jailed for 16 years in May after 15kg (33lb) of the Class A drug was found at the Peri Peri Grill House on Midland Road, Luton.
He was said to have had a "leading role" in importation and distribution.
His sentence was reduced to 10 years at London's Criminal Appeal Court after lawyers said there was no evidence he was a major player in a drugs gang.
Khan, of Sherwood Road, Luton, was arrested as he left his takeaway shop in October last year.
Some 13kg (29lb) of cocaine was stashed in a sports holdall, with the rest hidden a brown takeaway bag.
He was convicted of possession of cocaine with intent to supply at Luton Crown Court in May.
The drugs had been cut with a powerful antibiotic meant for use on animals and the trial heard that "would have exposed users to more than the usual amount of danger".
Khan's lawyers disputed the fact his takeaway was a cover for the drugs and said it was "an ordinary and genuine business run by his family for generations".
They claimed Khan did not have a lead role and only stood to make £26,000 from the drugs he was storing.
Lord Justice Leggatt said: "These submissions have some force. The sentencing judge was not justified in attributing to him a leading role."
The appeal judge also noted that Khan had a rare blood disease which would make his time in jail difficult.
"There are, in this case, exceptional circumstances which justify a reduction in the sentence that would otherwise be appropriate," he said.
"We quash the sentence of 16 years and substitute one of 10 years. To that extent, this appeal is allowed."