Mayor 'steps in' get Wixams railway station built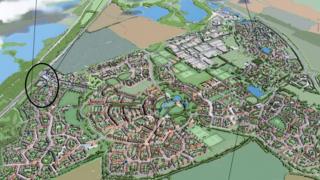 Plans for a £27.4m railway station in a new village could be back on track, with the council stepping in to bridge the funding gap.
Developer Gallagher Estates had already pledged £13.4m for the station at Wixams, south of Bedford, which was proposed in 2006.
Dave Hodgson, the Liberal Democrat Mayor of Bedford, said Bedford Borough Council could fund the remainder.
It will be considered by the Mayor's Executive on 19 September.
Elected mayor Mr Hodgson said he was "stepping in" after an appeal for national funding for the remaining £14m had failed.
"While it isn't the job of councils to build railways stations and that was never intended in this case, I am stepping in to make it our business," he said.
"We will make sure residents get the station they were promised."
Wixams Station would be on the Thameslink line, with services to Bedford and London.
Mr Hodgson said the council would step in to fund the shortfall, "on the basis of recovering the costs from fares".
The BBC has approached Gallagher Estates for comment.