'Clown mask' Colney Heath robbery gang member jailed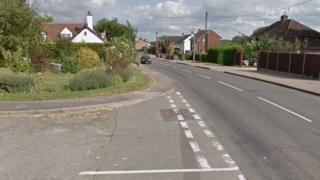 A member of a gang of armed robbers which left a man thinking "he was going to get murdered" has been jailed.
A 22-year-old man answered a door knock at a Hertfordshire house in December to find a man in a clown mask brandishing a knife.
Five men then rushed into the house and the man was stabbed in the ordeal.
Joshua Munnings, 30, of Waldegrave Road, Crouch End, London, admitted aggravated burglary and was sentenced to nine years and nine months.
He will spend a further three years on license after he is released.
St Albans Crown Court was told that the men, three armed with knives and another with what appeared to be a gun in a sock, forced entry to the house in High Street, Colney Heath, at 21:15 GMT on 18 December.
Prosecutor Peter Shaw told the court the man was told they had "come to seize money, which was a mystery to him".
'Something from a movie'
He was ordered to open the safe but "thought he was going to get murdered because there was nothing in it", Mr Shaw said.
A phone, games console, watch, bank card and passport were all taken.
His mother was told by the man with a gun he would "burst her" if she failed to stop making noise to alert her neighbours, while a friend hid in the shower during the ordeal.
The mother told the court: "It was as if I was witnessing something that came out of movie. The gun was constantly moving and was pointed in my face."
Munnings was caught because of a fingerprint left on a money box and was arrested at St Pancras Station seven months later.
Defending, David Martin-Sperry said Munnings was the offender that had been unarmed and was "misled" about the nature of the visit to the house.
The other four men have not been found by police.