Hatfield medal thieves 'disrespect armed services'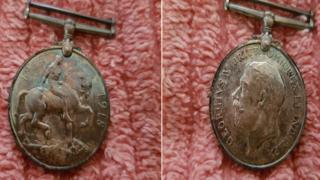 The family of an elderly woman, who had historic war medals stolen from her home while she was in respite care after a fall, said the thieves showed "huge disrespect" for the armed forces.
Burglars stole three war medals from the 86-year-old victim's house at Stockbreach Close in Hatfield between 14 and 20 August.
The medals, including two from 1882, belonged to her uncle and great uncle.
Her goddaughter said they had "no value other than sentimental value".
'Something concrete'
Suzanne Brown said: "We've lost something concrete to hold onto - you can have as many family trees and do family history, but these were real things that you could hold in your hand to make you think about what they went through while they were fighting in a war - and they've gone.
"Doing what they did shows a huge amount of disrespect for anybody who has ever served or will serve in the armed forces."
The break-in was discovered by a relative who was checking the ransacked house, where the victim had lived nearly all her life, first with her parents, and then alone.
One of the items was the British World War One medal of the victim's late uncle who was killed in action in May 1918 and buried in Egypt.
Her great uncle was in the Anglo-Egyptian war of 1882 and she had round and pointed star-shaped medals commemorated that.
It is estimated the three medals are worth between £50 and £200.
Det Sgt Malcolm Dey, said: "I am asking that people be aware and to contact me if they see items matching the ones in the photographs for sale on social media selling groups, or displayed in antique or pawn shops."