Aston Martin to make 28 James Bond cars - costing £3.3m each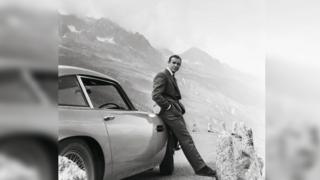 Aston Martin is recreating James Bond's "iconic" DB5 car, which was made famous in Goldfinger.
The car, complete with revolving number plates, will be built in Newport Pagnell, Buckinghamshire.
Aston Martin and EON Productions will work together to produce 25 of the cars - priced at £2.75m plus taxes, despite not being road legal.
Three more cars will be built, with EON and Aston Martin keeping one each and the last being auctioned for charity.
Described by Aston Martin as "the most instantly recognisable car of all-time", the DB5 first appeared in Goldfinger in 1964 and went on to feature in six more James Bond films.
The new models will include a number of gadgets, which will be co-developed by James Bond special effects supervisor and Oscar-winner Chris Corbould OBE.
Each car - which will cost £3.3m after tax - will be painted a Silver Birch colour like the original DB5.
Andy Palmer, president and CEO at Aston Martin, said: "It is remarkable that the DB5 remains the definitive James Bond car after so many years.
"To own an Aston Martin has long been an aspiration for James Bond fans, but to own a Silver Birch DB5, complete with gadgets and built to the highest standards in the very same factory as the original James Bond cars? Well, that is surely the ultimate collectors' fantasy."
The first customer delivery of the Goldfinger DB5 continuation car is expected to take place in 2020.