Luton robber caught due to disguise failure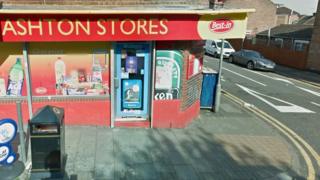 A man who punched a shopkeeper in the face during a robbery was caught after his disguise slipped down to reveal his face on CCTV, a court has heard.
Delano Thomas, 40, tried to take bottles of alcohol from Ashton Stores in Luton with a scarf over his face.
But it fell down in a struggle with the shopkeeper and police recognised his face on the CCTV footage.
Thomas, of Enderby Road, Luton, was jailed for four years after being found guilty of robbery at Luton Crown Court.
The court heard Thomas was asked by the shopkeeper to remove the scarf when he entered the store on Ashton Road on the morning of 29 January, he refused and was told to leave.
After returning a minute later he hit the shopkeeper, took the alcohol, and fled after a tussle.
Judge Nigel Lithman QC told Thomas: "Shopkeepers shouldn't have to put up with this sort of behaviour."