Fireman pleads not guilty to Royston pedestrian death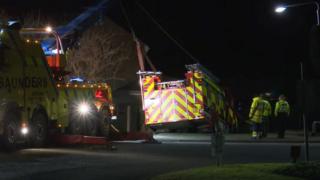 A fireman who was driving a fire engine which crashed and killed a pedestrian has denied causing death by dangerous driving.
David Williams, 47, was responding to a 999 call when the vehicle left a roundabout in Royston, Hertfordshire, and overturned in January 2017.
Mitchell Bailey, 58, was struck by the fire engine and died at the scene.
Mr Williams also pleaded not guilty to causing death by careless driving at St Albans Crown Court.
Mr Williams, of Baldock Street, Royston, will stand trial on 5 November.