Cars with parking ticket debts in Luton could be towed away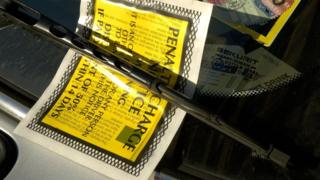 Vehicles which are parked illegally or have a significant number of parking tickets could be towed away after a council had to write off thousands of unpaid fines.
Luton Borough Council is looking at ways of pursuing persistent offenders who have three or more tickets.
The council said the government's DVLA had incomplete records of ownership.
A council report found one Luton vehicle had 115 open unpaid cases with an outstanding balance of £12,269.
In total, some 6,404 Penalty Charge Notices (PCNs) in 2017/18 had to written off because the DVLA (Driver & Vehicle Licensing Agency) records were incomplete or incorrect and 2,876 PCNs were written off as vehicles had a foreign registration and the council was unable to pursue the owners.
The findings were heard at a meeting of the council's overview and scrutiny board.
Liberal Democrat councillor David Franks said: "It's staggering someone can clock up more than £1,000 in fixed penalty notices and still be driving around collecting more parking tickets."
The council's parking operations manager, Tony Stefano, said: "If we are able to locate them and they are illegally parked, we will seek to remove the vehicle.
"If someone comes forward to claim it back, we get the name and address of that person and the ability to pursue those unpaid charge notices because we know who that potential owner may be."
Liberal Democrat councillor Peter Chapman was worried that if a private company ran the scheme, it would only be interested in profit.
He said he did not want it to be like London where "someone parks, gets a ticket, two seconds later a lorry turns up and chucks it on the vehicle".
The tow-away scheme would cost up to £130,000 annually and should pay for itself, the board said.
It would need approval from Luton's executive committee.