Bedford graves of 'Bold and Brave' women remembered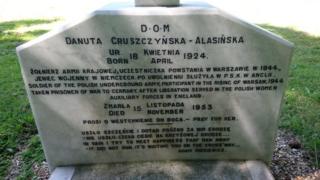 A number of "little known" and "remarkable" women buried in a town's cemetery are being remembered, to mark the centenary since women were given the vote.
The Bold & Brave walks at Foster Hill Cemetery, Bedford, have been created to highlight 13 "pioneer" women who are buried there, said organisers.
The walks have been named in honour of a member of the Polish Resistance.
A suffragette, astronomer and teachers are also included.
One of the honoured women, Danuta Gruszczynska-Alasinska, served in the underground Polish army during the Nazi occupation in World War Two.
'A real honour'
She was captured and imprisoned in Germany, moved to Bedford after the war and died in 1953, aged 29, at the Polish Hospital in Penley, Flintshire, from heart failure.
Karen Fryc, tour guide and author of The Bedford Chronicles, said Ms Gruszczynska-Alasinska's Warsaw Uprising pseudonym was Smiala, which means brave or bold.
She said: "During times when women had no real voice or power, these women fought to make their voices heard facing sexism, discrimination, racism, inequality, and misogyny.
"To be able to tell their stories today, in the year when we celebrate 100 years since some women were finally given the right to vote, is a real honour."
Adrian Bean, a tour guide from Friends of Foster Hill Cemetery, said: "We've loved every minute planning, researching and carrying out the walks, to highlight and celebrate some of the little-known but remarkable women buried in our cemetery, whose stories are poignant, uplifting and inspiring.
"As a guide, I feel privileged to have helped open the long-closed books about these brave women, especially Danuta, so their achievements can be appreciated."
The next free walk is taking place at Foster Hill Cemetery on 9 August at 18:30 BST.