Woburn Safari Park black bear attacks family's car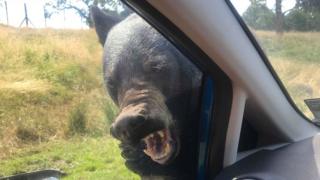 A safari park has said it is not a "petting zoo" after a family were left "terrified" when a bear attacked their car.
Sophie Mallaney, from Leighton Buzzard, was visiting Woburn Safari Park in Bedfordshire on Monday when a 6ft black bear climbed on the bonnet and began "chewing away" at the car.
Ms Mallaney said no help came from wardens after they beeped their horn.
But the park said: "No horns were heard."
Ms Mallaney told the BBC that as her family drove through the park, the bear came towards them and started biting around the windscreen.
She said they started beeping their horn when the bear climbed on to the bonnet.
"We were unhappy that no-one came to help," said Ms Mallaney, who added that visitors were told to sound their horn if they felt in danger.
"We did, and no-one came."
A spokesman for the park said the deputy head of the carnivore section was on patrol at the time, but that nothing was heard.
"He would have attended," the spokesman said.
Ms Mallaney, who was in the car with her mother, sister and nephew, said the bear eventually left her family's car and approached another vehicle.
A park spokesman apologised for the bear "worrying the family" and said the incident had been investigated.
"We would like to issue a reminder to visitors that we are a safari park as opposed to a petting zoo," he added.
He said that during "road safari experiences" the animals could come close to vehicles, so a strict safety policy was in place, which guests were instructed to follow.
The park has offered Ms Mallaney's family a VIP meet and greet at the park, but she said: "I don't think we will be going back to the safari park any time soon."