Buckingham teacher guilty of misconduct over cocaine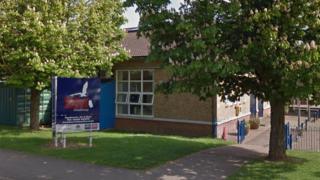 A primary head teacher who offered staff cocaine and put his hands down a colleague's trousers can keep teaching.
Richard Main, who worked at Bourton Meadow Academy in Buckingham, was found to have shown "unacceptable conduct" between December 2013 and July 2016.
But the Teaching Regulation Agency said there was a "strong public interest" in letting him continue to teach.
Mr Main admitted acting inappropriately towards a co-worker but denied offering anyone cocaine.
At a misconduct tribunal in May, the 46-year-old teacher said he did "not take illegal drugs, does not deal in drugs and would not know how to purchase drugs".
'Effective head teacher'
He also denied making inappropriate comments to members of staff along with claims he was unable to be contacted during a school trip, despite being the named emergency contact.
It was alleged the Buckinghamshire teacher's alcohol consumption made him unfit for work the following day, which he disputed.
Mr Main faced several allegations relating to his time at the primary school, but the panel found the nature and severity of his behaviour was "at the less serious end of the spectrum".
It also said Mr Main was "in all other respects an effective head teacher" and a prohibition order would "deprive the public of his contribution to the profession".
The board concluded that: "A number of allegations were proven, some of which amount to unacceptable professional conduct and conduct that may bring the profession into disrepute.
"However, it is not necessary to impose a prohibition order to maintain public confidence in the profession.
"A published decision backed up by remorse and insight does satisfy the public interest requirement concerning public confidence in the profession."