Three killed man trying to retrieve scam money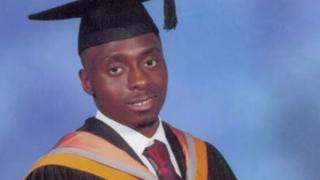 Three men have been convicted of killing an engineering graduate who had tried to retrieve money his friend had lost in a scam.
Jamil Sarki, 23, travelled from London to Welwyn Garden City, Hertfordshire, on 18 January to collect the £3,000 but died of a fatal stab wound.
At St Albans Crown Court Daniel Frazer-Traille, 29, was convicted of murder.
Vinnie Bradshaw, 19, and Keith Coventry, 34, were found guilty of manslaughter.
All three men, from Bassingburn Walk in Welwyn Garden City, were also convicted of causing grievous bodily harm to a friend of Mr Sarki who had travelled to Hertfordshire with him.
The three men will be sentenced on Monday.
The trial had heard on the day of the killing Bradshaw and 18-year-old John Taycur, who was cleared of all charges during the trial, had travelled to King's Cross in London intent on carrying out a "scam."
Details are unclear about what happened there, the court heard, but the pair met a friend of Mr Sarki, Elijah Makinde, and left him there while returning to Welwyn Garden City with a "large sum of money".
Mr Sarki had been in contact with Mr Makinde and, after finding out his friend had been conned, attempted to follow the men with another friend, Gregory Yemba, to try to recover the money, the jury was told.
Frazer-Traille, Bradshaw and Coventry found out the pair had arrived in Welwyn Garden City.
There was a confrontation between the two groups at about 22:20 GMT, during which mechanical engineering graduate Mr Sarki was stabbed in the heart.
Frazer-Traille, Bradshaw and Coventry have all been remanded in custody ahead of sentencing.