Bletchley man who set woman on fire has sentence increased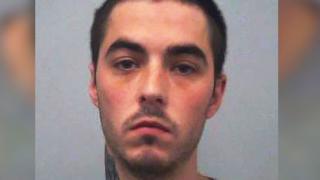 A man who set fire to his neighbour and watched her burn as he smoked a cigarette has had his 19-year jail sentence increased to life at the Court of Appeal.
Raymond Bowen, 24, doused Kirsten Ashby in petrol in his flat in Milton Keynes before throwing his lighter at her.
The 27-year-old received burns to 32% of her body and is still in hospital following the attack on 17 November.
The Court of Appeal judge described Bowen as "utterly cruel and callous".
Lord Justice Davis added the attack had changed the life of his victim "irreparable and irretrievably" forever.
The father-of-five had drunk a bottle of Jack Daniels and taken cocaine when he carried out the attack, witnessed by one of his children.
The court heard Kirsten had befriended Bowen's partner and visited their flat out of concern she was having a fit.
Bowen accused Kirsten of interfering before dousing her in petrol and setting her alight..
Kirsten told police from her hospital bed that Bowen watched her burn: "He was just stood there... smoking a fag; watching me, all smug."
'Unduly lenient'
In April, Bowen was sentenced to 19 years in prison with an extended licence of five years after pleading guilty to attempted murder.
His case was later referred by the Solicitor General, who argued the sentence was unduly lenient.
Lord Justice Davis, sitting with Mr Justice Goss and Mr Justice Kerr, described the case as "extremely difficult and upsetting".
He said: "We have to consider whether the seriousness of this offence was such as to justify a life sentence.
"We are driven to the conclusion that it does."