Drone in London Luton Airport jet near miss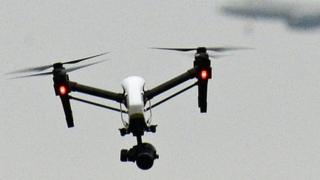 A drone came within 20 feet (6m) of an aircraft that had just taken off from London Luton Airport, an air safety report has found.
The UK Airprox Board said the Airbus 320 was about seven miles south west of the airport when the near miss took place just before 12:30 BST on 6 May.
The captain said he had no time to move out of the way but assessed that the drone would not hit the aircraft.
"Providence had played a major part in the incident," the report said.
The pilot reported that the plane had left the airport when the captain saw a drone that passed about 10-20ft (3-6m) above and down the right-hand side of the aircraft.
It was being flown too high and too close to the airport "such that it was endangering other aircraft at that location and altitude", the report said.
The report concluded that the risk of collision was "very high".