Labour deselects Luton councillors amid bullying claim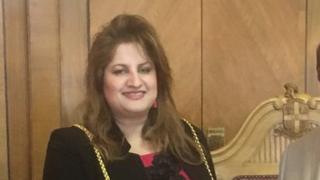 Labour has defended the deselection of six "long-serving" councillors, amid claims of bullying and procedures not being followed.
Six Luton Borough Councillors were deselected, including the current Mayor Naseem Ayub.
The party has chosen replacement candidates to stand in the May 2019 local elections.
Labour said candidates were "democratically-selected" and "rules and procedures" were followed.
In total, three councillors from the Biscot Ward were deselected - Ms Ayub, her husband Mohammad Ayub, and Tahir Khan.
Three councillors were deselected from the Saints ward - Dr Raja Saleem, Mohammed Riaz and Asma Rathore.
'Abuse of democracy'
The Labour Party has a large majority at the unitary local authority with 34 out of 48 councillors.
Dr Saleem said: "I was really disappointed because people were bullied and nobody explained the procedure."
Ms Rathore said: "There was no agenda for the meeting through the post. The regional Labour Party have not taken any action. That's what is upsetting."
Mr Riaz, who has stood for 15 years said: "It was an abuse of democracy. People were using other Labour Party members' cards."
A Labour Party East of England spokesman said: "Labour candidates are democratically selected by local Labour Party members. We are satisfied that this process took place in line with Labour's rules and procedures."
He said any complaints will be thoroughly investigated.
Akbar Khan, a Luton Labour Party member who attended the meeting, said the deselection of long-serving councillors was a "big upset in local politics".
The BBC has approached the Labour leadership of the council for comment,