Homebase sheds jobs after the company is sold for £1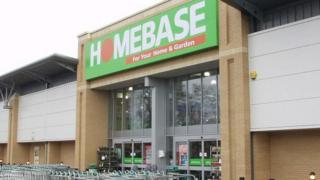 Homebase is to cut 303 jobs at its store support centre after the chain was bought by a restructuring company.
Australian firm Wesfarmers sold it to Hilco for £1 last month, just two years after it paid £340m for the company.
Homebase said the changes at its centre in Milton Keynes were needed as it reverts to a single brand, phasing out the Bunnings name adopted by 24 stores.
A spokesman said the company would be "better prepared for the demands of the UK's challenging retail environment".
He added: "The store support centre had served both Homebase and Bunnings brands prior to Wesfarmers's sale of the business.
"With the withdrawal of the Bunnings brand it was necessary to realign the team to best serve a single, independent brand."
Wesfarmers bought the company in 2016 and had started to redevelop its Homebase stores under its Bunnings brand.
The Australian firm admitted making a number of "self-induced" blunders including underestimating winter demand for a range of items from heaters to cleaning and storage, and dropping popular kitchen and bathroom ranges.
The chain - which has about 250 stores and 11,500 workers in the UK - was bought last month by restructuring specialist Hilco, which rescued music chain HMV in 2013.
Shopworkers' trade union Usdaw said at the time that Homebase staff were "extremely worried for the future".
Damian McGloughlin, CEO of Homebase, said: "We have not taken this decision lightly, but decisive action is required to start rebuilding Homebase's position in the UK market.
"We will be providing as much support as we can to help those affected through this difficult time."