Fox rescued after getting trapped in trampoline springs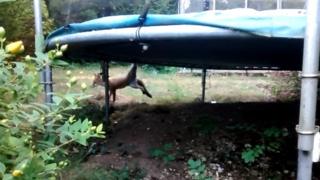 A fox had to be rescued after getting its leg caught in springs on a trampoline.
The RSPCA, who came to the animal's aid, suggested it looked like an outtake from the John Lewis advert where a dog bounces on a trampoline.
The young animal's predicament was spotted by a woman on 20 June at her home in The Mount, Rickmansworth.
It was rescued by the RSPCA and is undergoing veterinary treatment for a leg wound.
'Nasty wound'
The 2016 John Lewis Christmas advert featured Buster the boxer bouncing on a trampoline to a cover version Randy Crawford's One Day I'll Fly Away.
Rachel Smith, from the RSPCA, said: "Perhaps [the fox] had been trying to recreate the famous scenes in the John Lewis advert and was bouncing around when he got himself stuck.
"Luckily, I was able to free him and check him over. He had a nasty wound on his leg so I took him to one of our local wildlife rehabilitators for treatment.
"Unfortunately wild animals and birds can end up in some tricky situations when they get caught up in play equipment and netting out in gardens and on playing fields.
"We'd ask the public to try to make their gardens as wildlife-friendly as possible and to secure any netting, rope or pieces of play equipment so animals can't get themselves tangled in them."