'Mad' narrow boaters to navigate The Wash to Bedford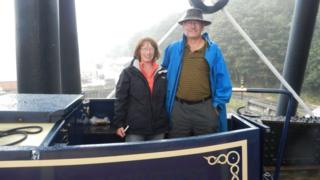 Narrow boat adventurers are preparing to cross The Wash in a 160-mile (257km) voyage to navigate underused waterways.
Members of the Cotswolds Canal Cruising Club will navigate the open sea from Boston, Lincolnshire to Wisbech, Cambridgeshire, before making an onward journey to Bedford.
The seven boats aim to start on Tuesday and finish on 13 July, in time for the 40th Bedford River Festival.
Hilary Whitby, one of the organisers, said "we are all a little mad".
Boats from Nottingham, Gloucester, Droitwich, Lancashire, Stafford, Middlewich and Yorkshire are taking part.
Ms Whitby, who will be on her boat Clara Grace, said once they have crossed The Wash they will navigate the Middle Levels before crossing The Fens and on to the River Great Ouse, which includes 20 locks.
"If we cross The Wash on 26 June we have plenty of time, so we might stop off in lots of places. If not we will have to push on and get to Bedford in time.
"We are a little bit mad, we like to go different places and it is an unusual trip. We do like to explore waterways that are not much used. "
Issues that might delay the challenge are strong winds and poor visibility.
"Narrow boats were designed for inland waterways and cannot cope with heavy seas. They are flat-bottomed with no keel so roll about, and if the waves are too high they'll take on water with disastrous consequences," she said.
The group is hoping to tick off a few places on the Silver Propeller Challenge - an Inland Waterways Association scheme to get people to travel along less frequented routes.
"One club member coming from Droitwich Spa has covered 209 miles (336km) and 103 locks [to get to Boston], and then we have to get back to our home moorings from Bedford," she said.