Nightclub acid attacker Arthur Collins's family in court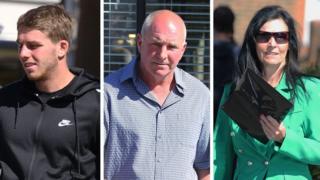 The younger brother of a nightclub acid attacker has admitted to possessing a CS gas canister and a stun gun.
Thomas Collins, 22, appeared in court alongside his parents, who denied allowing their £1m home to be used to grow cannabis.
They were charged when police searched the house in Hertfordshire for Arthur Collins Jnr, who was later jailed for throwing acid in a packed London club.
Thomas Collins will be sentenced after his parents' trial in October.
Appearing at St Albans Crown Court. Arthur Collins Snr, 55, and his wife Jackie, 53, pleaded not guilty to a charge of permitting their home in White Stubbs Lane, Broxbourne, to be used to produce a Class B drug.
Their son Thomas pleaded guilty to two charges of possessing a prohibited weapon.
He also pleaded guilty to possessing a quantity of cannabis which was found in his bedroom.
It is alleged 30 cannabis plants were found growing in an outbuilding.
The charges followed a police search of the family home on 17 April 2017 as they looked for Arthur Collins Jnr.
Collins Jnr, the ex-boyfriend of reality TV star Ferne McCann, was wanted after acid was thrown at revellers in Mangle E8 nightclub in Dalston on 17 April, injuring 22 people.
The 25-year-old admitted throwing the corrosive substance but had claimed he believed it was a date rape drug.
He was sentenced in December to 20 years in prison with an extra five years on licence.