'Fire issues' remain at fatal blaze Woodlands View care home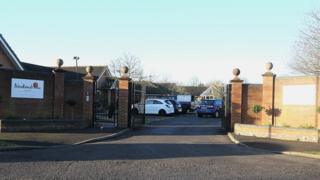 A care home where two people died as a result of a fire still has to improve its evacuation awareness and procedures, a report has found.
A resident in his 80s and his visitor died after the fire at the Woodlands View home in Stevenage on 3 February.
An inspection by the Care Quality Commission (CQC) two months later found no staff knew the fire procedure policy, as first reported by The Comet.
HC-One, which runs the home, said it takes feedback "incredibly seriously".
A statement added that a more recent inspection from the Fire Authority said they had "reasonable fire safety systems in place".
The report said while all staff had received fire training when they began working at the home, there had been no refresher in the past year and no update since HC-One had taken over in December.
One member of staff told inspectors that they "never saw" the personal emergency evacuation procedures.
The report said these procedures "did not consistently provide sufficient information for staff to know how to evacuate people who were bed or chairbound".
The fire is thought to have involved an oxygen cylinder but a member of staff said they had received no communication "about oxygen or fire since the incident".
The service was found to require improvement in every area at the unannounced inspection on 24 April, apart from one, where it was rated inadequate.
The CQC had already said the care home's service was "not consistently safe" a month prior to the fatal fire.
HC-One said: "The health and wellbeing of our residents is of utmost priority and we take all CQC feedback incredibly seriously.
"We are working closely with our residents, their relatives, and the local authority to ensure that all necessary improvements are implemented swiftly and effectively."