Inmate who wrote officer's name in blood is jailed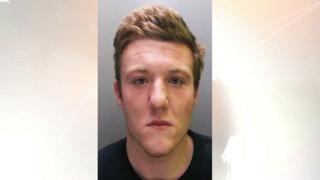 An inmate who cut himself to write a prison officer's name in blood on his cell wall has been jailed for three years.
Adam Righelato-Apperley, 25, a prisoner at The Mount, Hertfordshire, was found guilty of making threats to kill officer Ben Lambert in November 2016.
He wrote the words "RIP Lambert" after falling out with the officer over a "lockdown".
Righelato-Apperley was jailed by Judge Lynn Tayton QC at Luton Crown Court.
The judge also made him the subject of a restraining order forbidding him from making any contact with the prison officer for an indefinite period.
She told him: "Mr Lambert took these threats seriously and as a result he suffered serious anxiety."
'Looking angry'
The trail had been told that Righelato-Apperley, who had lived in Peterborough, was confined to his cell during a lockdown and became angry that he was not being let out.
Mr Lambert told the court the prisoner was standing in the middle of his cell "looking angry" and threatened him.
He said he then noticed the inmate was bleeding heavily from his arm and saw the words written in blood.
Righelato-Apperley had been acquitted of a second charge of making a threat to kill the officer in December of 2016.
Before sentencing, defence barrister Gwen Williamson told the court his client had been having difficulty coping with prison and had been "cutting himself on a regular basis".