Jamie Gilroy jailed for crashing van into Maulden cottage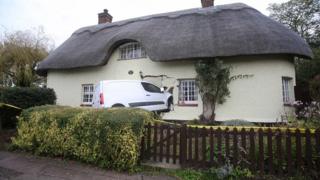 A driver who was high on cocaine when he ploughed a van into a couple's thatched cottage has been jailed.
Jamie Gilroy, 35, came off a bend on Ampthill Road in Maulden, crossed a grass verge, and went through a hedge before embedding the Berlingo van in the front of the 16th Century cottage.
Gilroy, of Harrow Piece in the village, pleaded guilty at Luton Crown Court to dangerous driving.
He was jailed for 14 months and banned from driving for five years.
The crash happened at about 22:35 GMT on 10 October last year as Steven and Val Fossey, who live in the cottage, were about to go to bed.
Neighbours heard the noise and held Gilroy by tying up his legs with string until the police arrived.
At the time, Mrs Fossey, 67, who was in the living room with her husband, 66, when the van crashed into the home, said there was "a dreadful noise - like an earthquake".
Gilroy, who had previous convictions including driving while banned, escaped unhurt from the wreckage.
Prosecutor Neil King said the repairs cost £20,000 and the couple had to pay their insurers a £350 excess which Judge Barbara Mensah said Gilroy should pay on his release.
The couple had to move out, but have now returned home.
Matthew Lippard, defending, said Gilroy had shown remorse and was aware of the impact his offence had on his victims.
Jailing him, Judge Mensah said: "Your case is at the top end of the scale of dangerous driving.
"You were driving at speed on a road which required you to slow down. You were on drugs and caused a very serious accident which left the victims with cost and emotional trauma."