Luton cab driver Shipu Ahmed jailed for two rapes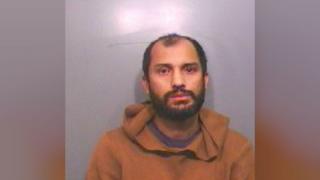 A taxi driver who raped a girl and a woman in 2007 but was only caught by DNA evidence last year has been jailed.
Luton black cab divers were asked to give voluntary DNA samples after the attack, but 36-year-old Shipu Ahmed failed to and it was not followed up.
But when arrested in September for an unrelated domestic incident, a DNA match was found, Luton Crown Court heard.
Ahmed, of Avondale Road, Luton, was jailed for 22 years.
He denied the charges but was convicted by a jury of raping a 15-year-old girl and a 22-year-old woman.
The court heard the teenager had been drinking with friends on 30 November 2007, but had an argument and walked off, before seeing the taxi being driven by Ahmed.
Prosecutor Sally Hobson told the court: "She said she had money, but he said: 'Don't worry. It will be free.'
"She asked him to take her back to her friends in Edlesborough, but he headed off in the direction of Totternhoe. He said he was going to turn round, but didn't."
'Took advantage'
Ms Hobson said that when Ahmed stopped he was wearing gloves and the girl "struggled and tried to push him away" before he raped her.
Ahmed had claimed the girl was 18 or 19, and that they had held hands, kissed and then moved on to have sex.
The court heard the older victim was very drunk after leaving a Dunstable nightclub early on 15 December 2007, and she and a man were going to get into Ahmed's taxi.
But while the man went to get his car keys Ahmed drove off with the woman, "took advantage of the situation" and raped her.
Ahmed said the woman had been sober and told him she would pay her fare with a sexual favour.
Judge Michael Kay QC told him: "For 10 years both of these victims have had to live with the fact they had been raped by a taxi driver who had not been caught."
He must register as a sex offender for life.