'Thugs' cover £17m Govia Thameslink train in graffiti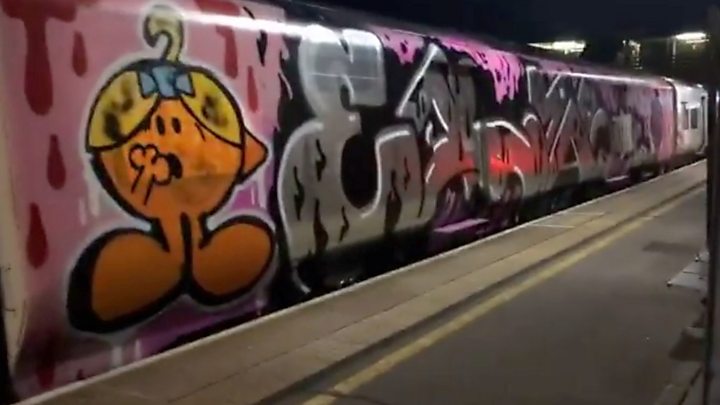 A £17m train has been put out of action after being covered "top to bottom" in graffiti.
Govia Thameslink Railway (GTR) said seven of 12 carriages were sprayed at sidings in West Worthing, West Sussex.
Helen Patterson, who filmed the damage to the Class 700 train in Bedford, where it will be repaired, said it had been "trashed" by "thugs".
British Transport Police said it was investigating the vandalism, which was reported on Wednesday.
The train company is currently under fire for cancelling services to deal with a new timetable that caused chaos on lines across the UK.
Ms Patterson, from Bedford, said in her commentary on the video, which was posted on Facebook: "I cannot believe they have done this.
"How much hassle have Thameslink commuters had in the past weeks and now this... it beggars belief."
A GTR spokesman said the train's carriages "were covered top to bottom in graffiti".
"The perpetrators must have brought a ladder to reach the top of the carriages' side panels, and probably had an air compressor and spray gun, rather than aerosol cans, to cover such a large area in the time," he said.
Each carriage cost £1.4m, and repairs are expected to take several days, but the cost of the clean-up is not yet known.
The GTR spokesman said: "The train will be out of action for considerably longer if the original paintwork is so damaged that a respray is needed.
"Vandalism of this kind is not only very costly to repair but will inconvenience thousands of passengers while it is out of service.
"Worst of all, by trespassing on the railway the vandals put their own lives at great risk."