Ella Parker: 'No police misconduct' over Milton Keynes stabbing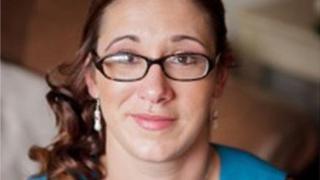 The police response to a man who was deemed a missing person when he stabbed a pregnant woman to death was "proportionate", an investigation said.
Ryan Blacknell was reported missing to Thames Valley Police after he left a mental health unit on 5 December.
Two days later he stabbed Ella Parker 33 times with a screwdriver in Milton Keynes and last month the schizophrenia sufferer was jailed for manslaughter.
The police force's investigation found no misconduct in relation to the case.
Blacknell, who admitted the charge at Luton Crown Court, was detained under the Mental Health Act, in a case which Judge Richard Foster said "might have been avoidable".
Days before the killing, Blacknell's mother called police after becoming concerned about his behaviour. They took him to the Campbell Centre, which deals with mental health patients, in Milton Keynes.
Luton Crown Court heard he felt "inpatients were going to eat him if he stayed another night" and the 25-year-old left after one night.
Blacknell, a childhood friend of five-months pregnant Ms Parker, went to stay at her house, but on 7 December she was found dead at home.
A post-mortem examination found 33 puncture wounds, some as deep as 8cm (3.15in) on her neck and head.
The court heard that after stabbing Ms Parker to death and leaving her in a pool of blood, Blacknell went to a local pub and had a pint of lager.
Central and North West London NHS Foundation Trust, which runs the Campbell Centre, confirmed its own investigation was also under way into the case.
A spokesman said: "The Campbell Centre is safe. This investigation is looking at what happened and what was predictable or preventable."
The findings of the investigation will be shared with a coroner ahead of an inquest, which is expected in the autumn.