'Behind the Artichokes' jury must read 213-page book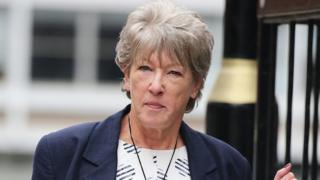 A trial jury has been given the "slightly unusual" task of reading a 213-page book about a family feud over artichokes and inheritance.
Gillian Leeden, 66, published Behind the Artichokes after being convicted for destroying her sister Lyndsey Glassett's artichokes with weed killer.
The book includes allegations of theft and abuse against Ms Glassett and another sister Deborah Lemay.
At St Albans Crown Court, Ms Leeden is accused of conveying false information.
The defendant, of St Michael's Road, Broxbourne, Hertfordshire, denies two charges.
One relates to printed allegations that Ms Lemay stole £21,000 from their late mother, removed furniture and jewellery from her address without consent and abused her.
The second charge relates to the same allegations, but also that Ms Glassett inherited a considerable about of money from their aunt Barbara Leeden through misdemeanour.
Judge Stephen Warner told the jury they were "required" to read the book.
He added: "You don't have to rush, but it has to be done. There is no alternative. It is a slightly unusual thing to do."
Prosecutor Katrina Charles said the relationship between Ms Leedon and her sisters broke down in 2010.
Ms Glassett was living as a full-time carer for their mother, Winifred Leeden, and Ms Leeden lived in the flat upstairs.
She sent threatening emails, sang offensive songs and wrote an offensive blog about Ms Glassett, Ms Lemay and her husband, for which she was cautioned, Ms Charles said.
After their mother died in April 2014, Ms Glassett relocated to Norfolk.
The court heard that shortly before this, she discovered that the Jerusalem Artichokes planted in the garden she had shared with her mother had wilted and died.
CCTV footage showed Ms Leeden had poured liquid on them, and she was arrested and convicted of criminal damage after a trial.
Ms Charles told the court that in 2015, Ms Leeden's book was sent to the complainants and to a variety of people known to them.
The prosecutor said the defendant had accused her two sisters of stealing from their mother, but solicitors found there had been "no misappropriation".
Ms Leeden is accused of sending a letter, communication or article conveying false information she knew to be false.
The trial continues.