Mum's love of crime drama inspired 11-year-old's book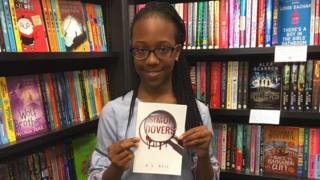 A mother's love for crime shows led her 11-year-old daughter to become one of the UK's youngest published authors.
Aaliyah Neil created her own murder mystery based on fictional crime-solving 13-year-old Simon Dovers, after being challenged by her father to earn a mobile phone.
The book, which she wrote when she was 10, took six months to complete and has been released by Olympia Publishers.
Aaliyah said she was "so excited and so proud" to be published.
"I got into writing because I loved reading and all the authors that wrote inspired me to create my own content," said Aaliyah, originally from Aylesbury, Buckinghamshire, and currently living in Nottinghamshire.
"My mum loves crime shows and every night I'd see her watching them so I decided to write a book about one."
Her mother was the one to submit Aaliyah's work to publishers, who said it was "good quality anyway, but even more so considering how young she was".
A spokeswoman for Olympia Publishers said: "It shows that it is possible for someone so young to become published. I also know that Aaliyah is planning on visiting schools in her area to help inspire other children to begin writing."
Aaliyah said she wrote her central character, Simon, as "very curious and adventurous" and hoped for her book to leave people in "suspense".
She is now considering creating a series after the success of her first novel.