Aylesbury nuisance caller rang 999 more than 230 times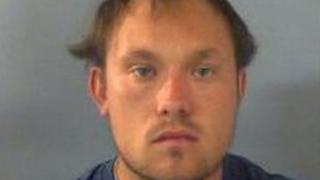 A man who made more than 230 nuisance calls to the emergency services has been issued with a criminal behaviour order.
Aylesbury Crown Court heard Jamie Power, 27, "behaved in an anti-social manner" towards neighbours, emergency personnel and NHS staff.
He was also convicted of arson and given a 20-month prison sentence, suspended for two years.
Police said he could have "prevented genuine emergencies" getting through.
Read more Beds, Herts and Bucks stories
The order - formally known as an ASBO - stops Power, of Belgrave Road, Aylesbury, calling 999 or entering NHS property unless the emergency is genuine.
It also prevents him owning a cigarette lighter or matches, and "hitting the walls or stamping on the floors" at home.
The order will remain in place until May 2022.
PC Andy Smith, anti-social behaviour officer with Thames Valley Police, said it would serve as a warning to others.
"As well as behaving in an anti-social manner towards his neighbours," he said, "Power was responsible for over 230 calls to the emergency services over a two-year period.
"His persistent calls could have prevented genuine emergencies from being dealt with."