Norfolk MEP wades into row over pregnant Bulgarian cow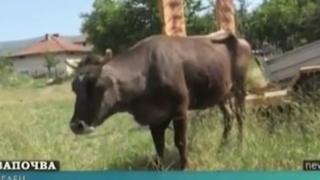 A Conservative MEP from Norfolk has waded into a diplomatic row over the fate of a pregnant Bulgarian cow.
Penka is due to be put down after straying over the border into non-EU member state Serbia.
John Flack, who represents the East of England, has called on senior politicians to intervene and save her from imminent slaughter.
Bulgarian officials said strict EU importation rules meant the animal had to be destroyed.
Penka, which is set to calve in three months' time, wandered away from the herd near the village of Kopilovtsi, close to the Serbian border.
'Failure of compassion'
According to the AFP agency, she has been returned to farmer Ivan Haralampiev.
He told Bulgarian TV network BNT he had pleaded for his cow to be saved.
Under EU rules, bovine animals must be accompanied by a veterinary health certificate upon entry, detailing "requirements in relation to BSE".
The paperwork must be signed by an official veterinarian in the non-EU country, and must "accompany the animals en-route to the EU and when they are presented for entry".
Mr Flack, based in Swaffham, Norfolk, has offered to pay for an EU vet to carry out the necessary checks.
"Taking a short stroll should not be a capital offence," he said.
"Surely this is a case where pragmatism should prevail over a strict reading of the rules. If the authorities don't see that they have had a serious failure of common sense and compassion."
Mr Flack has written to European Parliament President Antonio Tajani, and Bulgarian Prime Minister Boyko Borissov to stop what he calls "a travesty of justice".
A petition has also been raised by the Daily Telegraph to save the beleaguered bovine on compassionate grounds.