Council prioritised grass cutting near Cliveden House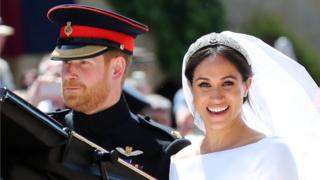 A council has been criticised for prioritising grass cutting before the royal wedding near the hotel where the Duchess of Sussex stayed.
Councillor Dev Dhillon said it was "really appalling" that the only grass cut by Buckinghamshire County Council in his area was near Cliveden House.
Meghan Markle stayed in the luxury hotel on the night before her wedding.
A cabinet member said the authority wanted the area "to look as beautiful as possible" for the royal wedding.
Mr Dhillon said there were "dangerous" overgrown paths used by schoolchildren in his area, but the first grass cut was "for the temporary look for the Duchess of Sussex".
Mark Shaw, cabinet member for transport at the council, said: "Of course we did want it to look as beautiful as possible for the royal wedding day."
He added that it was "a day which was enjoyed by many, many people so I hope the Duchess of Sussex enjoyed her time in Bucks the night before the wedding".
At a council meeting, Mr Dhillon was told the first grass cuts of the year are still being carried out.
The council said budget constraints put a limit on the number of grass cuts carried out, with rural roads receiving one cut a year, and areas with 30-40mph speed limits having four.
Council officer David Stewart said: "We can't pile more resource in at certain times because that would give us problems at other times."