Luton Airport workers postpone Bank Holiday strike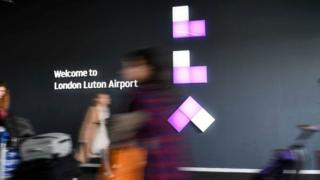 Luton Airport employees have postponed strike action which was due to take place over the May Bank Holiday weekend.
Passengers were warned to expect delays after workers voted to take part in industrial action regarding pay.
The strike has been suspended after the airport made an "enhanced pay offer".
Baggage handlers employed by Menzies Aviation and airport assistance workers with Clece Care Service Ltd are still due to strike 26-30 May.
A spokesman for Unite the Union said Luton Airport employees "will consider a revised offer from management, but should the revised offer be rejected Unite still has a mandate for further strike action".
Menzies employees are also said to be considering a revised pay offer from their management.
A statement on Luton Airport's website said there "remains a chance of some minor disruption" and advised passengers flying on those dates to check the status of their flight with their airline.