Bedfordshire school 'safety' cameras catch hundreds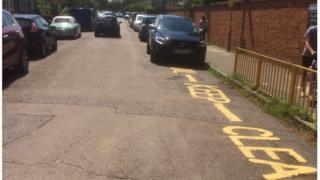 Some 346 fines have been handed out in just seven months to people who have parked illegally outside schools.
Since September, 17 fixed cameras have been placed by Bedford Borough Council, for the "safety of children" in Bedford and north Bedfordshire.
The fine is £70, potentially making the council £24,220, but fines are reduced to £35 if paid within 14 days,
One parent has said they are "worth every penny" while another questioned the cost.
Councillor Charles Royden, Liberal Democrat portfolio holder for transport at the council, said: "Following changes to legislation by the government, we are no longer able to use mobile CCTV to help keep our roads safe and enforce against unlawful parking.
"We have invested in these fixed cameras which allow us to issue fines when people park on zig-zag areas which present the most danger to the safety of children."
Sarah Gammon, one parent, said: "If they save one child's life then they are worth every penny and more, let alone keeping the kids and their families safe when attending school."
Karen Knights, a mother of three, said "our children's safety is a priority".
Graeme Molloy, from Bedford, said: "In this time of local authority austerity and reducing budgets this strikes me as a disproportionate use of taxpayers' money.
"I cannot conceivably see the returns will justify the outlay, and at the same time will do little to address road safety outside of schools."
A spokeswoman for the council said: "The money collected from fines is governed by law and must be reinvested back into the roads or local transport infrastructure - for example to enhance and promote road safety outside schools."
The penalty charge notices were issued from September until April, with the most - 102 - for offences outside the Edith Cavell Primary School on Manton Lane in Bedford.