Colworth Garden Village scrapped over Santa Pod noise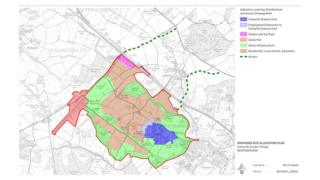 Plans to build 4,500 homes have been scrapped, after noise levels could not be agreed between a drag racking track and developers.
The scheme to create Colworth Garden Village in north Bedfordshire have been withdrawn from the Bedford Borough Council Local Plan 2035.
A report to the council found Santa Pod Raceway and the developers Wrenbridge could not deliver a range of noise mitigation measures.
The local plan will now be revised.
In January, a consultation on Bedford's Local Plan began, including proposals for the new village, which would be built next to Santa Pod, which is in Podington.
The decision has been taken by the council's executive committee, to remove it from the Local Plan.
The elected Liberal Democrat Mayor of Bedford, David Hodgson said: "If the deal cannot be done between the promoter [developer] and Santa Pod on the noise issue, then it cannot go forward.
"We are not going back to the drawing board, the underlying principles within the Local Plan are sound."
Neale Saunders from Santa Pod Raceway said they had discussions with the developers.
"We needed to have comfort that our business would not be threatened by the new homes and we were waiting through to the very end, for the promoter [of the development] to put through an evidence-based list of packages to show the sound mitigation could work - we never received anything," he said.
The BBC has approached Wrenbridge for comment.
The Local Plan will now go back to council officers, a revised one will be put to consultation in the autumn, and it is expected to be submitted to the secretary of state by the end of the year.