Carer 'stole £150,000' from three 'vulnerable' pensioners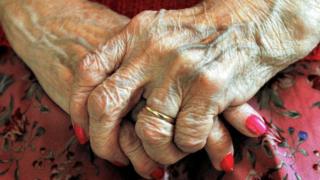 A carer took more than £150,000 from the bank accounts of three vulnerable pensioners, a court has heard.
Carolyn McClune, 59, from Redbourn, Hertfordshire, denies two charges of fraud by abuse of position - and one of fraud by false representation.
The largest amount was more than £88,000, which she took from an elderly woman with dementia, St Albans Crown Court was told.
Prosecutor Jack Talbot said Ms McClune "betrayed the trust placed in her".
Read more Beds, Herts and Bucks stories here
Ms McClune, who ran her own company, Blue Bell Care, looked after an elderly woman in St Albans after the pensioner was diagnosed with dementia in August 2015, the jury was told.
It was alleged the carer transferred £88,613 from the woman's account into her own, claiming she was doing what the woman asked.
An investigation into Ms McClune's financial affairs revealed she held 11 different bank accounts with seven banks, the court heard.
Two more victims were identified as a result, it was said.
The jury was told Ms McClune had moved in with an elderly widow in Hatfield before she "bled her account dry," taking £46,123.
'Dishonest and cunning'
She also befriended a vulnerable elderly man in St Albans, taking him on shopping trips, and transferred £25,356 of his pension into her accounts, according to prosecutors.
The man had told police he had not given her permission to take the money, the court heard.
Mr Talbot described Ms McClune as "dishonest and cunning" and said she "betrayed the trust placed in her".
"She may have been a good carer, however the prosecution says she is guilty of three frauds against three elderly vulnerable victims," he said.
The trial continues.