Hang Yin Leung: Burglary murder victim planned to retire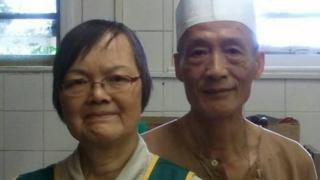 A woman who died 11 days after being struck on the head during a burglary was due to retire and travel the world, her husband has said.
Hang Yin Leung, 64, was beaten as six men ransacked her Milton Keynes home on 31 January 2017.
As seen in Channel 4's Catching a Killer, police arrested four men over the death, but no-one has been charged.
Husband Chun Yau Leung said the pair eventually planned to settle back in Hong Kong, but "now there is nothing".
"We had a plan, that once we retired we would travel the world," he said.
"These burglars, they had no humanity."
Mrs Leung, who ran a takeaway business with her husband, was by herself at the family home on Orne Gardens, Bolbeck Park, when she answered a knock on her door at about 18:00 GMT.
Six men forced their way into the property and one threatened her with an ice pick and beat her around the head with his hand.
Bodycam footage from officers showed the destruction caused by the men who stole cash and jewellery from the property.
Speaking to BBC Three Counties, Mrs Leung's son, Keith Leung, described his mother as a "tremendous fighter" who persevered through difficult times, including fighting breast cancer.
He said his father was struggling to cope with the death of his "best friend and wife".
He praised the work of officers investigating his mother's murder and said he hoped someone would eventually come forward with "the missing piece of the puzzle".
Following last night's episode, Thames Valley Police renewed its appeal to trace two items stolen in the raid - Mrs Leung's long service medal from the Hong Kong Police and a Rolex watch.
Det Ch Insp Andy Shearwood, said: "Sadly in this case there has not yet been an outcome but we continue to make efforts to seek justice for Hang's family."