Koy Bentley death: Witness Abdi Ali jailed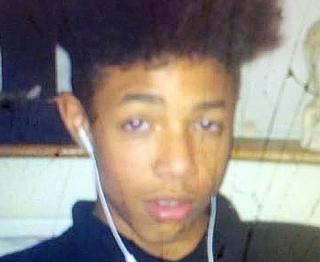 A man who was at a flat when a teenager was stabbed to death has been jailed for 16 months.
Abdi Ali, 22, from Lewisham, was using the flat in Water Lane, Watford, to deal heroin and crack cocaine when 15-year-old Koy Bentley died on 5 June.
Ali had pleaded guilty at St Albans Crown Court to conspiracy to supply Class A drugs and perverting the course of justice.
A 16-year-old boy from London was cleared of the teen's murder in April.
During the murder trial, the court heard Ali and the two teenagers were dealing heroin and crack cocaine in the flat before Koy was stabbed through the lung and heart after an apparent "disagreement".
Stabbed twice
The victim was stabbed twice in the chest and died a short while later at the flat.
Ali appeared as a prosecution witness, where he claimed Koy had been killed by the teenager.
He said the teenager who inflicted the wound, apologised and grabbed hold of Koy before he fell, lowering him into a chair - but the jury did not believe him.
The 16-year-old told the jury Ali had fatally stabbed the victim twice while he was sitting in a swivel chair after he said he had "lost a pack".
Koy stood up and unzipped his top and blood was "pouring out" of the wounds, he told the court. The teenager said he and Ali fled and in an alleyway the older man put the knife under a bush.
The court also heard Ali told a woman who was also in the flat to lie to the ambulance crew about how Koy had been injured.
The cleared teenager admitted conspiracy to supply drugs and will be sentenced later this month.