Hemel Hempstead Town fan makes 440-mile trip to games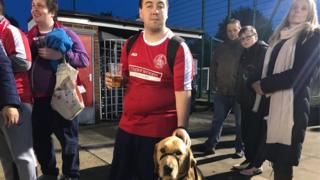 A partially-sighted football fan who makes a 440-mile round trip with his guide dog to nearly every home game has been given a free season ticket.
Colin Perreira, 22, travels on the train from Plymouth to Hertfordshire to see non-league Hemel Hempstead Town.
He stands behind the Hemel goal but has to use the zoom on his phone camera to see most of the pitch.
Hemel chairman Dave Boggins has rewarded his "dedication" with a ticket for as long as he is in charge.
Mr Perreira said he was "speechless" at the "incredible" offer by the club.
You may also like:
"I was pretty shocked to say the very least, "he said.
"I never, ever expected or thought the club would do something like that for me."
It follows a collection that was started earlier this year - which included a donation from ex-England striker Teddy Sheringham, whose son Charlie played for Hemel - to pay for Mr Perreira's season ticket.
Mr Perreira, who was born in Hemel Hempstead and moved to Devon to study, still manages to get to see his club "most weeks".
He said his longest journey was when he travelled from Plymouth to Bognor Regis, via Hemel, where he joined up with up a fellow fan - 640 miles in total - for a Tuesday night match.
He added: "The main reason I go is because everyone knows me and everyone knows each other, it's such a tight-knit club.
"I know everyone by name and face, you don't really get that at the big clubs. You aren't going to know all 40,000 Chelsea fans."
But he said it was a "heartbreaking" end to the season as they lost in the National League South play-offs against Braintree Town.