Bedford to Milton Keynes waterway 'in jeopardy' over tunnel cost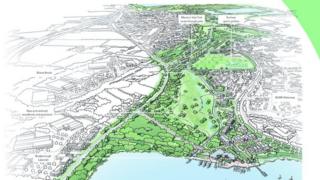 A charity says its £200m waterway project is in jeopardy after it was set an "impossible" task to find £3m by September to fund a tunnel.
Bedford & Milton Keynes (B&MK) Waterway Trust, which hopes to link the two towns, said it had been asked by Central Bedfordshire Council to fund the culvert as part of a road scheme.
The council said the culvert "can be retro-fitted at a later date".
But the trust said delaying the work would cost "three times more".
Since 1995 the trust has been promoting the broad waterway park linking the Grand Union Canal in Milton Keynes to the River Great Ouse in Bedford.
But in March it was announced that the A421 road would be upgraded and dualled between Milton Keynes and junction 13 of the M1.
The trust said the road would cross the proposed 16-mile (26km) route of the waterway, leaving no possibility of a future route underneath the road.
It said the only solution it had been offered was to pay itself for the construction of a culvert under the road.
Trust chairwoman Jane Hamilton said: "It is a huge ask for a small charitable trust to find this money and it now makes our job impossible.
"It is very short-sighted (of the council) not to invest in it and when they put in their business case for the funds, we do not know why they did not include the culvert."
A Central Bedfordshire Council spokeswoman said: "We are very supportive of the canal.
"The central government funding we applied for to upgrade the A421 did not allow us to bid for additional projects such as adding a new culvert for the future canal.
"If the Waterway Trust cannot fund the culvert now it can be retro-fitted at a later date".