Victoria Pendleton leaves Everest climb on medical advice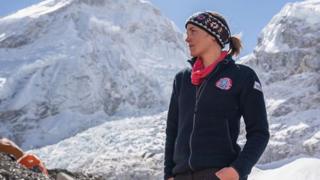 Olympic champion Victoria Pendleton has pulled out of a charity expedition to climb Everest on medical advice.
Pendleton and TV presenter Ben Fogle were at base camp 2 at 6400m (20,977 ft) when she experienced the effects of hypoxia, caused by a lack of oxygen.
"I am incredibly disappointed not to complete the challenge," she said from Everest Base Camp.
The former cyclist and Fogle were due to scale Everest in aid of the British Red Cross.
Paying tribute to Pendleton in a series of Instagram posts, Fogle - who is continuing - said she was "braver to concede".
"The mountain will always be there. We won't. Nothing is more important than self-preservation."
A spokesman for the expedition told the BBC Pendleton was being flown to Kathmandu and would be back in the UK on Friday.
Her departure was not a "medical evacuation", she added.
A statement read: "During the recommended acclimatisation training 'rotations' upward from base camp, Victoria suffered with the effects of hypoxia at camp 2 and needed to take on additional oxygen overnight to alleviate her symptoms.
"No individual can predict exactly how their body will respond to the effects of extreme altitude such as that encountered above base camp.
"A small percentage of the population experience more challenging symptoms, and it is likely that Victoria is in this minority."
'Challenging environment'
The pair had completed the recommended level of pre-expedition training and began their Everest expedition with a 38-mile (62km) trek to base camp, which took six days, arriving on 21 April.
Pendleton described the Himalyas as "the most impressive, imposing and challenging environments on the planet" and a "magical place".
"I feel honoured to have visited," she said.
The Everest challenge was an attempt at an "ethical climb", with every aspect of the expedition analysed and its impact on the environment recorded.
Fogle said he was inspired to take part by the work of the British Red Cross in the aftermath of the fire at Grenfell Tower.