Hertfordshire police allowed 'gender-neutral' hats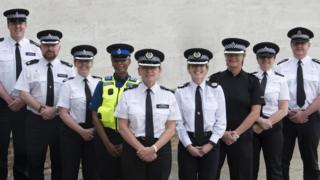 Police officers in Hertfordshire are being given the option of wearing identical headgear, regardless of gender.
The force said it had introduced a new patrol flat cap as the "gender-neutral" option for all officers.
It means women will no longer have to wear a bowler hat, introduced in 1985.
Ch Supt Matthew Nichols said one particular officer told them she "felt uncomfortable being defined as female through the gender-specific hat".
Women have worn a different uniform since they first joined the force at the start of the 20th Century, but male and female uniforms have become largely indistinguishable, apart from the hat.
Male officers have continued to wear the traditional custodian helmet since it was first introduced in the 1860s, or a patrol flat cap, depending on the duties being performed.
Hertfordshire Constabulary's Lesbian, Gay, Bisexual and Transgender Network (LGBT+) suggested the new option to senior officers, a police spokesman said.
Mr Nicholls, who is also the lead for sexual orientation and sexual identity, said: "The patrol cap is a viable gender neutral option as it is worn by both sexes in other forces and even our own cadet force.
"We felt it was an important subject to consider as many officers and police staff may appreciate having the choice if they either do not define themselves with a particular sex, may be about to go through the transition process or even just prefer to have the option to wear the patrol cap instead."
Those opting to wear the patrol cap will be able to do so for the majority of their duties, with the exception of when protective headgear is required, the force said.
Deputy Chief Constable Michelle Dunn, said: "Every staff member and officer should feel they have the right to be their authentic selves in the workplace and we are delighted to be making this change in Hertfordshire."